Update:3/4/2016
Usage Status of Switching Support System
OCCTO started the operation of Switching Support System on March 1 at 13:00. The usage
status of the system on March 1st is summarized below.
OCCTO will publish the usage status regularly on OCCTO's website.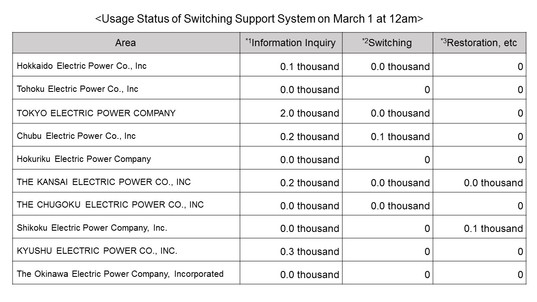 The previously published "Application Status for Switching" summarized the accumulated
number calculated based on the *4information as the number of applicants.
These information will be input into the Switching Support System sequentially by applicants.
*1 "Information Inquiry" shows the total number of inquiries of facility information and usage
amount information.
Facility information indicates the current contract, proprietary of automatic meter reading,
next meter reading, etc.
Usage amount information indicates the consumers' usage amount in the past 13 months.
*2 "Switching" shows the number of applications.
*3 "Restoration, etc." shows the total number of restoration (start of electricity supply with
no construction), abolition/removal, and changes of amperes and consumer information.
*4 "Information" indicates the advance acceptance data which companies who are planning to
carry on retail business after April 1, 2016 optionally provided to Transmission and
Distribution sector of Vertically Integrated Power Companies for replacement to smart meter.
Contact us